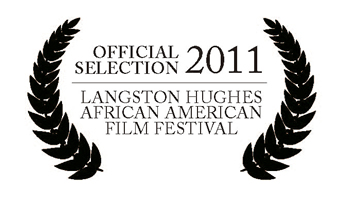 http://www.langstonarts.org/
El Documental "El Quinto Suyo, Afrodescendientes en el Perú" ha sido seleccionado para participar en este importante Festival y ha sido programado para el día del cierre!!!, el domingo 8 de mayo a las 4pm hora de Seattle (1 o 2pm Lima?).
Aquí la carta dirigida a Mónica Rojas, representante de Cimarrones en EE.UU
Dear Ms. Rojas,

Congratulations! "El Quinto Suyo (the 5th Suyo), Afro Peruvian Descendents ", your entry to the sixth annual Langston Hughes African American Film Festival in Seattle, April 30 - May 8, 2011, has been accepted for screening. We appreciate your decision to submit your work. Our program committee, which is composed of local business people, filmmakers and media professionals, enjoyed viewing your film, and had many positive comments. You have created interesting, socially relevant work.
As specified in the original call for work, you will be paid a $50.00 honorarium for the showing of your work. This payment will be made by check and should arrive by the end of June 2011.
Here's a summary of what needs to happen next:
* If you have high-resolution stills of scenes from your film, please email them to filmfestinfo@langstonarts.org or mail a CD with the high resolution stills to the address below.
* The full festival schedule is not complete, but we will notify you regarding the date and time of your film as soon as possible. Decisions regarding show dates and times are made by the LHAAFF and are subject to change.
* (U.S. citizens only) If you would like to receive payment individually, please complete, sign, and return the attached IRS W-4 form. Payments to individuals cannot be made without this paperwork.
* A Screening Agreement form will be emailed to you separately; please review, ask questions if you have any, sign, and return to filmfestinfo@langstonarts.org or fax it to 206-709-7508.
* If you would like the payment to be made to your production company, please send us an invoice on business letterhead. You may email the invoice to filmfestinfo@langstonarts.org or fax it to 206-709-7508. U.S. companies, please note that your invoice should your company's tax identification number.
*Please mail a backup copy of a screening DVD no later than April 20, 2011 to:
LHAAFF
The Langston Hughes Performing Arts Center
100 Dexter Avenue North
Seattle WA 98109
Your DVD, along with a copy of the full program schedule and PR materials, will be returned after the Festival ends.
Our festival is presenting 3 awards this year: the $500 audience award, selected by audience ballot; the $500 local filmmaker award, for filmmakers residing in Washington State; and a $750 jury prize. Winners will be announced on the last day of the festival.
Your work is a valuable addition to the range of diverse experiences in African diasporic life that the LHAFF strives to present. We appreciate your interest, and wish you the best for your future endeavors.
Sincerely,
Zola Mumford
Curator